Kimberly Castor, ARNP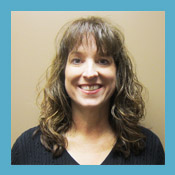 Kim was born and raised in rural Central Nebraska, where she learned the value of hard work and honesty on the family farm. She knew at a very young age she wanted to be a nurse and graduated with her Bachelor of Science in Nursing from the Nebraska Medical Center-Lincoln Campus in 1991. She has 25 years of experience as an OB/GYN/Labor & Delivery nurse in Aurora, Colorado and at the Nebraska Medical Center.
She graduated with her Master's degree in Nursing from the Nebraska Medical Center-Omaha in May 2014 and is certified in Women's Health. She has been working at Metro since February 2015.
Kim loves to care for a diversified population from teenagers to the elderly and believes that health care goes far beyond the physical health of women and encompasses mental, emotional, sexual and spiritual health as well. She believes that all women should be given the best care possible with a personal touch. She likes to think of her patients more as her children, sister, mother, grandmother or best friend when caring for them. Her special area of interest is in perimenopausal and menopausal women, whom often are dismissed by other medical professionals as they make this transition in their lives. Her favorite part of being a nurse practitioner is taking time to talk to and educate her patients. Kim is the divorced mother of 2 teenage daughters and a cute mutt. She is a huge Husker football fan and enjoys reading and scrapbooking in her spare time.
Kim is available to see patients every Monday in Corning, IA, Tuesday and most Friday afternoons and Thursday mornings. She is also seeing patients on the second Friday of the month in Harlan IA.
---
Please fill out our Contact Us form or call us at (712) 329-5700 to learn more about how
Metro OBGYN can help you today.